Are you a resident of Salt Lake City who is working on upgrading your home? Don't forget to upgrade your kitchen and bathroom countertops! Your Salt Lake City home is located in one of the most stunning cities in the nation, so why not maximize your home's beauty and worth even more? Intermountain Stone & Marble are your go-to people for new countertops. Our professionals have specialized in custom countertops since 1954. We're proud to offer the finest, personalized products in the Intermountain West, and we boast a wide variety of countertop options. These range from natural countertop surfaces to man-made countertops.
If you're looking for a colorful, resilient countertop option that can be freely cut without scratching or chipping, then quartz is for you. For those searching for a soft, relaxing surface that's also elegant, marble countertops are your best choice. If you're perpetually busy and are hoping for an option that's low-maintenance but is also high-end, then you can't go wrong with our granite selection.
Granite Countertops in Salt Lake City
Intermountain Stone and Marble Company offers only the highest quality granite countertops for our Salt Lake City, Utah customers. A solid granite countertop is an attractive upgrade that changes the entire atmosphere of a room while increasing the value of your home at the same time.
Granite countertops are dramatic and eye-catching, which partially explains their continued popularity. See what Intermountain Stone and Marble Company has to offer to give your home this modern touch.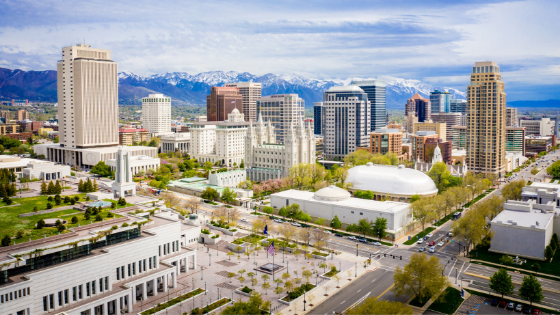 Not only do we offer the best countertop options, but we also provide your choice of finished edge options to give your countertops even more personality. Some of our most popular countertop edge options include beveled edges, chiseled edges, crescent edges, among several others.
Intermountain Stone & Marble offers all of these surface options and more. If you live in Salt Lake City and you're ready to update your countertops to a quality surface that will increase your home's value, contact our friendly professionals. Don't feel pressured to spend more than your budget allows to give your kitchen and bathroom the classy look they deserve. Our clients love us because we offer elegance at an affordable price that fits your needs. Get your free estimate today.